What is GreenPower?
GreenPower is government certified, renewable energy that households and businesses can purchase. It is the easiest way to significantly reduce your impact on climate change.
GreenPower comes from energy sourced from the sun, wind, water and waste which is considered as zero greenhouse gas emissions energy. It is bought by Discover Energy as your energy retailer on your behalf. GreenPower is the only voluntary government accredited program in Australia.
The electricity we use at home or work causes greenhouse gas emissions because approximately 81% of Australia's electricity is generated by fossil fuel powered generators, which emit carbon into the atmosphere. [1]
However, by purchasing GreenPower certified renewable energy that produces no net greenhouse gas emissions, you can reduce, or even eliminate the greenhouse gases produced by electricity use.
How does Discover Energy's GreenPower Energy work?
When you choose a GreenPower Energy product, Discover Energy commits to purchasing the equivalent amount of renewable energy from certified GreenPower generators on your behalf. This ensures that more clean energy is added to the grid.
You can choose to apply GreenPower to some or all of your energy consumption. If we don't have a GreenPower plan to suit your needs, let us know, we are committed to reducing greenhouse gases wherever we can and are happy to work with you to achieve this goal.
Where our renewables come from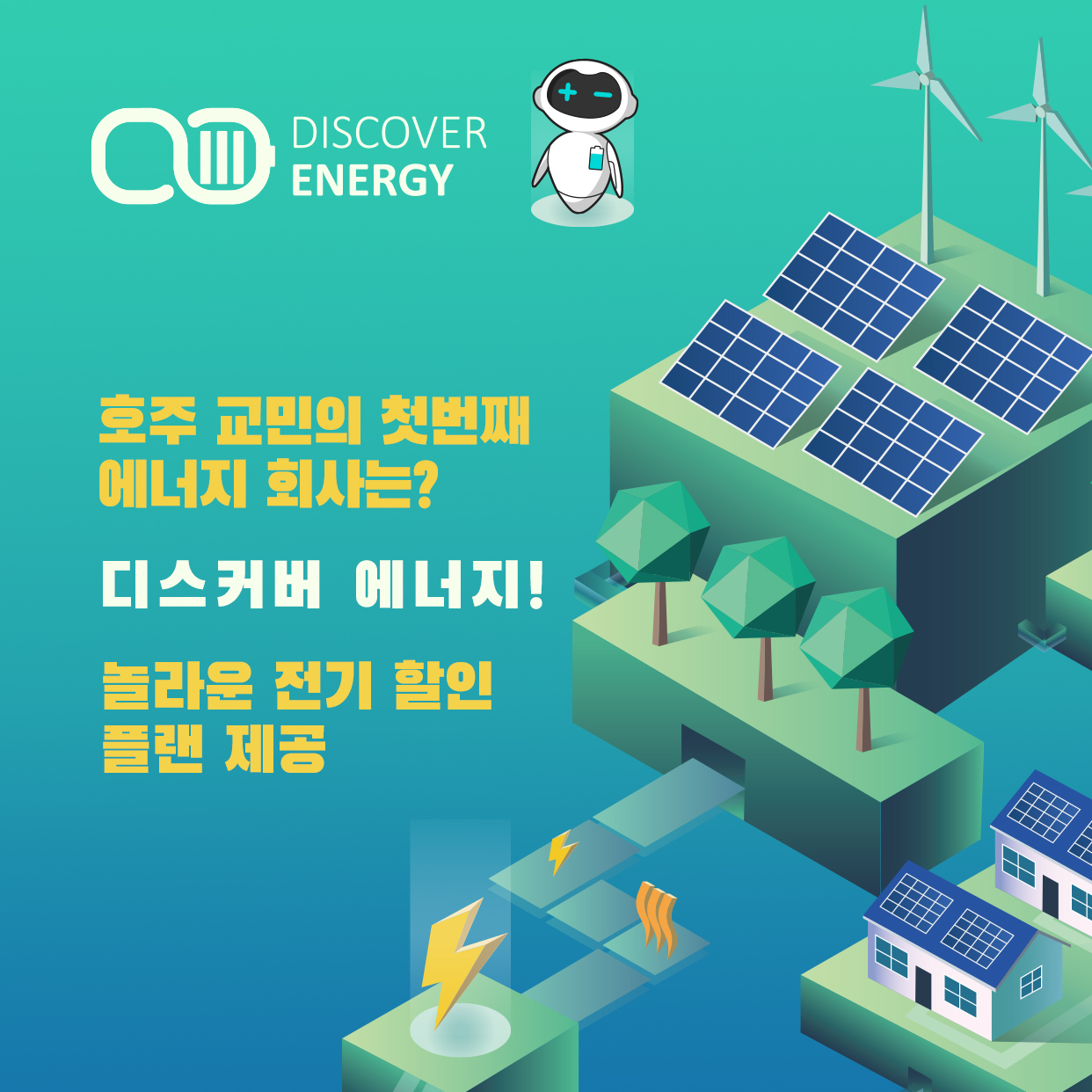 이제 전기 가스 한국어로 상담하세요! 디스커버 에너지에서 한인 여러분께 맞춤형 에너지 서비스를 제공합니다! 
2020-12-02
디스커버 에너지는 호주 교민들에게 한국어 홈페이지로 에너지 가입이 가능하게 만든 최초의 에너지 리테일러 입니다. 한국어 전문가가 일대일로 복잡한 에너지 요금체계를 설명드리고 요금절약 플랜을 찾아드립니다. ·한국어 서비스를 제공하는 호주 전기회사 한국인 에너지 전문가가 고객 한분 한분께 1:1  맞춤형 서비스로 언어 장벽 없이 고객님을 찾아갑니다. ( 카카오톡, 페이스북, 인스타그램, 전화) 호주의 높은 전기 가스 요금 및 복잡한 청구서로 고민하시는 고객 여러분께 우리의 에너지 전문가가 좀더 쉽고 친절하게 질문에 답해드립니다. 호주에서 처음으로 전기 가스를 가입하시나요? 고민하지 말고 한국어로 문의 하세요. · 저렴한 에너지 요금 디스커버 에너지의 또 다른 자랑은 저렴한 요금과 편리한 서비스 입니다. 더이상 복잡한 에너지 청구서에 고민하지 마세요. 가장 최근 빌을 비교하여 고객님의 에너지 환경에 가장 알맞은 요금절약 플랜을 찾아드립니다. ·스마트한 이용환경 환경보호를 지향하는 디스커버 에너지는 100% 디지털 서비스를 지향합니다. 고객님의 에너지 사용량을 디스커버 에너지 앱을 통해(안드로이드 또는 애플) 모니터 할 수 있으며, 청구서 확인과 요금 납부도 가능합니다. 알렉사와 구글 스마트 홈 어시스턴트로  고객님의 스마트 홈 링크도 가능합니다. ·디스커버 에너지만의 프로모션 고객님께 더 가깝게 다가가고자 특별한 가입프로모션을 안내 드립니다. 한국인 에너지 전문가와 상담한 결과 고객님의 최근 빌과 비교하여 더 저렴한 플랜을 제시하지 못할경우 가입과 상관없이 $100 EFTPOS 카드를 드립니다. 전화: 0478 078 982 또는 0401 461 092 Facebook: Discover Energy KOR INS: Discover Energy KOR kakao Channel: Discover Energy KOR 혹은 아래있는 QR code를 스캔하세요.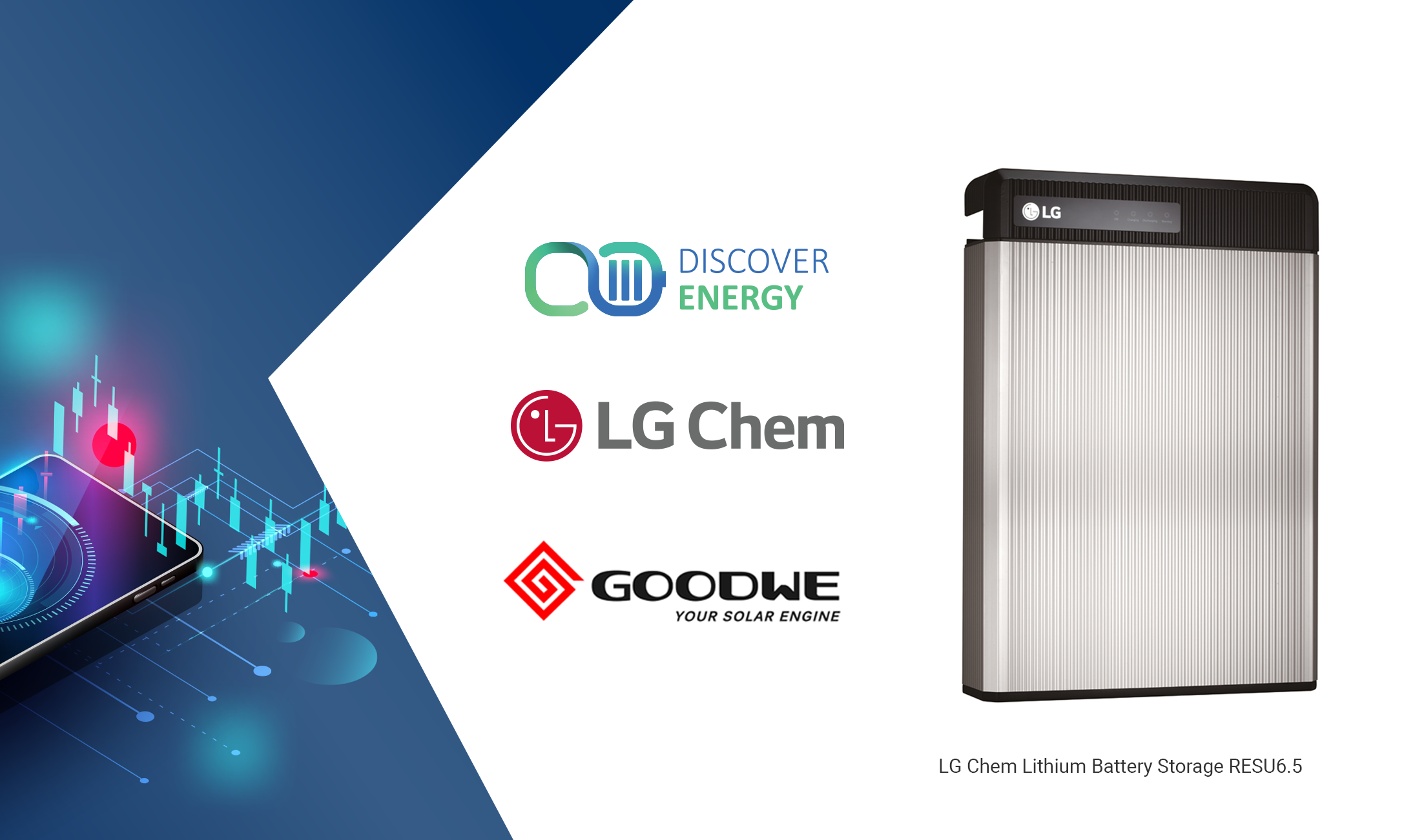 LG Chem Saver Offer: Hello, Smart Income!
2020-11-12
Join the Discover Energy VPP (Virtual Power Plant) Membership Advantage Program and gain 25c solar FIT and the ability to trade battery energy on Discover Energy's game-changing energy trading platform.  Exclusive LG Chem Offer: $100 Guaranteed VPP Smart Income! New LG Chem (LV) installations who sign up to DE VPP network in October will receive a guaranteed VPP Smart Income of $100 over their first 12 months. Become RE100: Discover Energy will also apply free 100% Accredited GreenPower to offset any of your consumption from the traditional energy grid until 31 December 2020, making your home 100% renewable energy for the rest of the year.  Adding a GoodWe inverter? Enjoy an additional $50 guaranteed VPP Smart Income If you've added a GoodWe inverter to your new LG (LV) battery, Discover Energy will add an additional $50, increasing your guaranteed smart income to $150 over 12 months.  Hurry! Offer applies to the first 150 units only.  NSW, SA, SE QLD only. Want to join Discover VPP?  Talk to a VPP expert: 1300 946 898 | 0422424064 or email  sales_vpp@discoverenergy.com.au First 150 units only. New installations from 1st September – 31st October only. NSW, SA, SE QLD only. LG Chem LV models only. LG Chem models that are compatible with GoodWe solar inverters are RESU 6.5, RESU10, RESU13.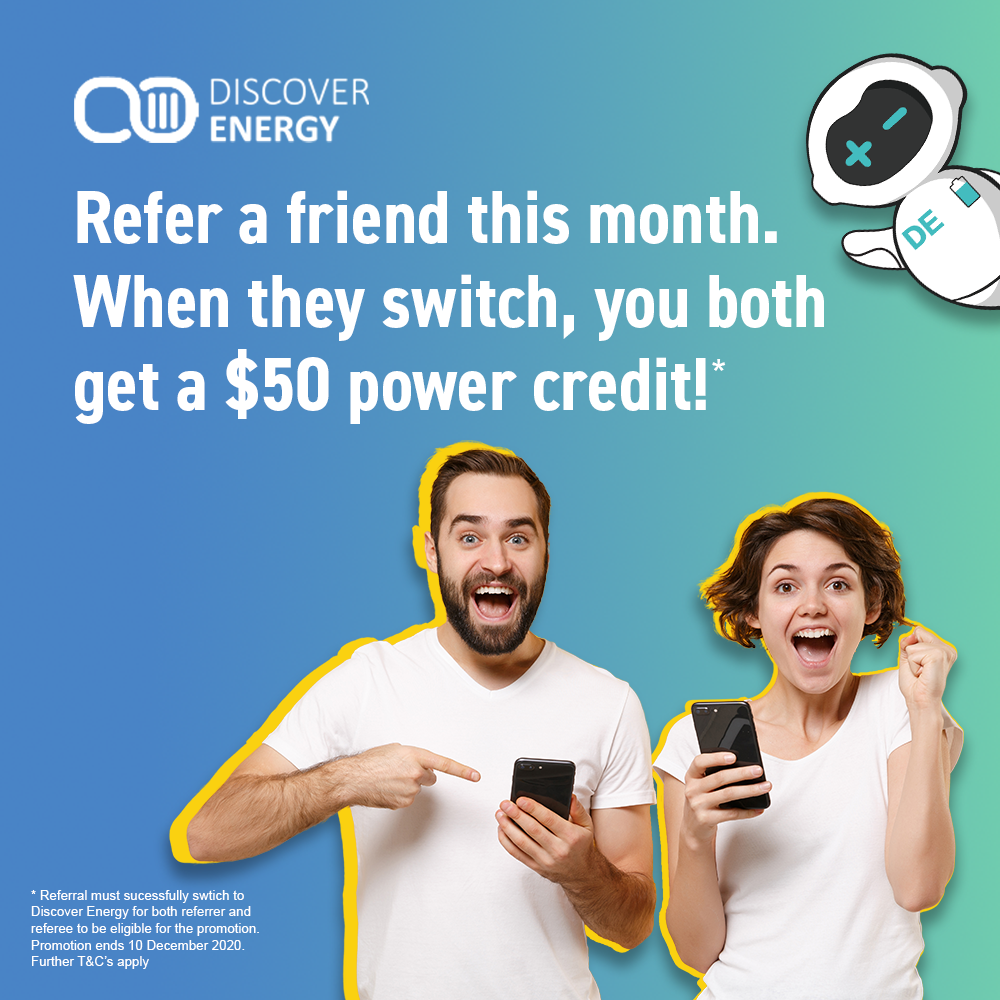 This month: Discover Energy $50 – $50 Referral
2020-11-09
From 10 November 2020 to 10 December 2020, when you refer a friend and they successfully sign up and switch, you both receive $50 electricity credit each! There's no cap on the number of friends you can refer, which means significant rewards for you if they switch! Simply send referral details to your account manager/energy consultant or get your friends to mention the promotion when they sign up. Start referring and receiving credits! Send your referrals to your Energy Consultant via Facebook Messenger here: http://m.me/discoverenergy Terms and Conditions To qualify for the $50+$50 referral promotion, a customer must be referred to Discover Energy, and signed up to a Discover Energy service during the promotional event period (11.10.20-12.10.20). Upon the successful switch of the referred customer, both the referrer and referee are each eligible for a $50 AUD electricity credit, which will be applied according to the rules of the below credit schedule.  $50+$50 referral promotion rules:The referrer must be a current customer of Discover Energy. The $50 AUD electricity credit received by both customers will be applied following the below credit schedule: $20 when the referee is switched, $10 when the referee pays the bill for the first time, $10 when the referee pays the bill for the second time and the final $10 when the referee pays the bill for the third time. This schedule applies to both parties. There is no upper limit for successful referrals during the promotional period. For example: If a customer refers 10 referees who successfully sign up and switch to a Discover Energy service, the referer will receive a $50 credit for each customer, or $500 dollar electricity credit to their account. The $50 electricity credit received by both parties are non-transferable, and both parties have the right to give up the reward. During the promotional period, if either the referrer or the referee leaves Discover Energy for any reason, the other party is still eligible for the credit. However if the referee leaves Discover Energy, the referrer will only receive the amount of credits eligible according to the credit schedule. The referee will still receive the $50 credit for joining, even if the referrer leaves Discover Energy. The $50 AUD electricity credit includes GST and cannot be exchanged for cash. This activity does not conflict with Discover Energy's "Share and Save promotion" ($30 credit for a social media share, $20 credit for 30 likes) and a customer is eligible to receive both rewards in tandem.  The promotion "$50+$50 referral promotion" will temporarily replace the existing "$60 referral promotion" for the promotional period. Customers cannot receive both rewards in tandem.  The final interpretation of promotional outcomes belongs to Discover Energy. Discover Energy may, at its absolute discretion, either decline to apply the $50+$50 referral promotion or, if it has already been applied, remove the $50+$50 referral promotion credit from the relevant account where Discover Energy reasonably believes that the referrer or referee are taking unfair advantage of this offer.