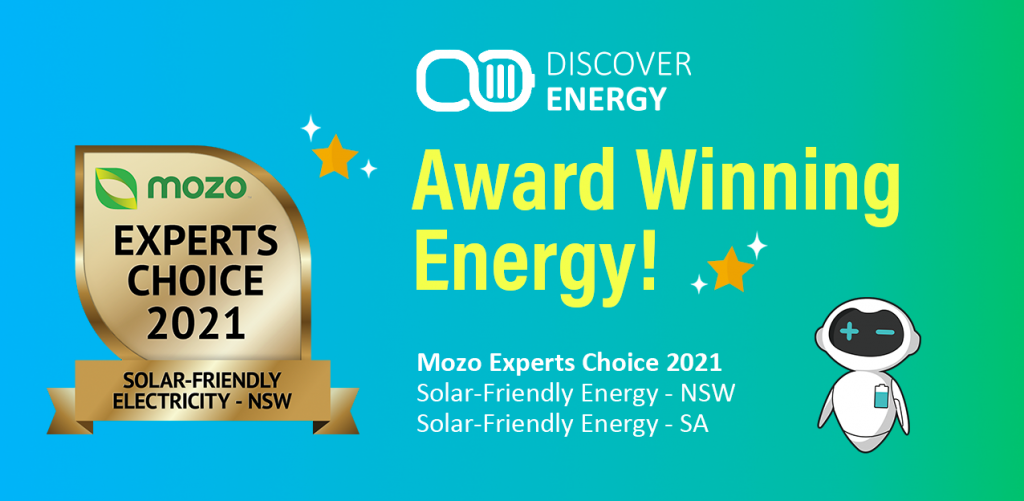 Discover Energy has won two 2021 Mozo Experts Choice Awards for Energy. For the 2021 awards, Mozo compared 842 energy plans from 47 Australian energy providers. From these contenders, Discover Energy was recognised as the 2021 Mozo Experts Choice for:
Solar-Friendly Energy – NSW
Solar-Friendly Energy – SA
Discover Energy is honoured to be recognised as providing some of the best value energy plans in the market during a challenging year for many Australians.
"With more Aussies working from home, energy bills have soared over the last few months, which makes it more important than ever to compare deals from different retailers," said Peter Marshall, Mozo Experts Choice Awards judge.
"The electricity market is vast and varied. Our awards highlight the best plans across the main categories we researched – electricity, gas, solar and green energy, to help you find a plan that will suit your household needs as well as your budget."
A Green Revolution
Discover Energy is especially delighted to see its renewable-aligned energy plans awarded in the industry, reflecting its core purpose as a company: to support and accelerate Australia's green energy revolution.
In addition to its award-winning solar plans, Discover Energy is also at the forefront of solar + storage technology, providing one of the most competitive and innovative Virtual Power Plant (VPP) programs in the country, with more than 1000 households with batteries connected to the Discover Energy VPP network. Discover Energy solar + storage customers enjoy up to 45c solar feed-in tariffs, free battery re-charging and energy trading.**
For more information on Discover Energy solar plans visit: https://www.discoverenergy.com.au/solar_batteries/storage
For more information home batteries and the Discover Energy VPP visit: https://www.discoverenergy.com.au/vpp
Mozo Experts Choice – Energy 2021 Methodology report
** VPP Premium Plan (NSW, ACT, SA, QLD): 45c solar feed-in for first 3.28kwh exported per day, 25c solar feed-in for next 3.28kwh exported per day, 9c for all remaining exports per day, free re-charging is an intermittent service and triggered during ideal conditions.